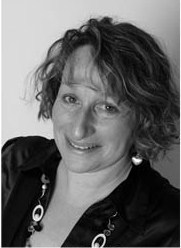 This month prepare yourself for something different in my news letter.
 It maybe something dangerous and a little scary!
The truth is that I write 'em, and Sarah, my wife of 21 years (that is how long we have been married not her age) puts 'em into some order and sends 'em out to you.  If it was not for her they would never leave my laptop and for this we should all be grateful.
This month, however, she has decided that you lot deserve the feminine touch!  And who am I to disagree?  I promise I will be back next month but for now…
The Magician's Wife
Thoughts for the Day
For a British Mum now living in the America, running a business, 2 teens and a Magician the low point in my week is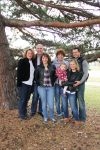 getting the vacuum cleaner out.  I know that Mr Hoover has a brushing mechanism to die for, and I believe if you have pets then a strong sucking  motion is what you need but no one has invented the vacuum cleaner for the magicians wife. What nozzle do you use to deal with the numerous cards stuck down the back of the couch,  how do you remove invisible thread from the roller brush, or clean up the wax that no longer sticks the card to the ceiling but is now ground into the floor.  We need the great Dysoni to conjure one up.
But there is one week that is different. The Week when the chores go out the window, when no one thinks of cleaning or cooking.  The Week when we look to the hills (not many of those in Michigan but then I'm going for poetic licence here) and facebook is a buzzing with the talk of Magic reunions, Amish chicken dinners, gators in the cooler, toy spiders on strings, card flicking on the pavement (OK sidewalk) and will there be the usual round of parties.  You guessed it – its time for Camp Colon – Abbotts Get Together for the uninitiated.
So we packed the car, with bags, cards, rings, balls, balloons (oooh almost sound like a family going on a beach holiday, except the rings are linking rings, the balls are floating balls and the balloons are for modeling not for water), add in the hats (top) and you have a perfect car loaded for Colon (and don't forget the gin for Mum).  Year 3 for us Fields' and a real treat – it feels like  we are going on a family holiday, not a working vacation.
For us Brits you can not compare Colon to any British conventions; Blackpool or Eastbourne are in a different world.  For most normal Americans this place called Colon (such an apt name) is a mystery – but only because they have never heard of it.  But for Magicians, jugglers, illusionists, escapologists, ventriloquists, mentalistists and other such 'ists' this place is Nirvana, a dream come true, the finding of Heaven, the place of myth and steeped in magical history.  For the Magician's wife its a place to get a reasonable cup of coffee.
I jest I jest – although all those jokes about 'one horse town and even the horse left' do come to mind.
So starts 5 days of catching up on old friends, with conversations starting with – 'hows the wife?', 'hows the kids?' "hows the shows"?…….and reverse those list of questions if the Magician is speaking first not his wife!
Actually it is such an exceptional treat to watch some of the little things that happen at Colon.  To see a pro handing on tips to a novice.  Whether the novice is a child learning the ropes (double pun… like that one Keith?), a retired chap looking for tips on his hobby, or someone trying to extend their repertoire.
My teen daughter learned more about locks from an escapologist than I care to mention, my husband always likes sharing tips and tricks even after 30 years in the biz, our teen son, just like to see his heroes at work. And for the Magician's wife – free time to finish a book while the family is occupied.
The dealers room at Colon from my perspective is a great time to pick up a few Christmas stocking presents, gifts for the nephews oh and maybe a look at the beautiful silver jewelry – now I'm interested in the linking rings… when they can go on your wrist!  Isn't that the point of the dealers room…..???
And lastly the evening shows – this year the 75th, surpassed itself – so many magical happenings over such a short time – creative theater, illusions, comedy and of course magic.  I can't explain the laughter of this Magicians wife at seeing Tom Mullica and Mac King – the creativity of others, old magic with a new slant, a wide variety of acts.
I give you all a standing ovation.
And Keith will be back next month. Now how do I get that wax out of the carpet?
Sarah Harfield