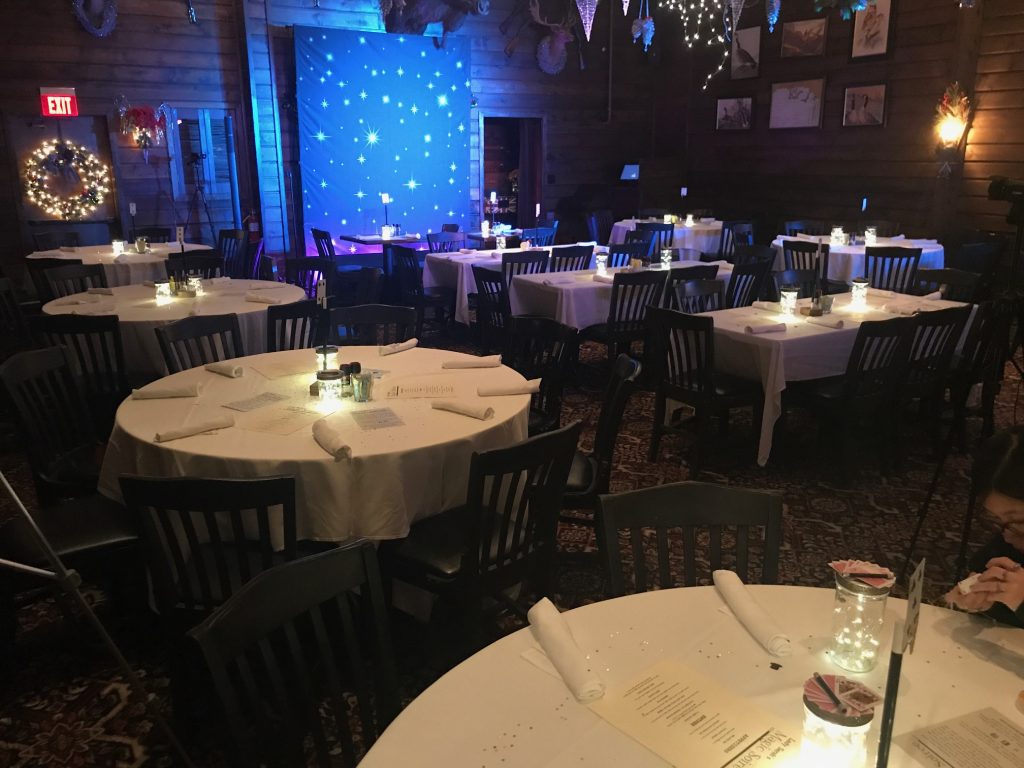 We started our mission to visit, perform and write about all the local magic shows around the USA over a year ago. It is great to see folk getting together and providing a stage where magicians can perform and audiences can experience live magic. This story is about our experience of doing it ourselves.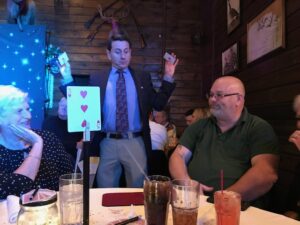 Putting on a regular show has a different set of challenges to performing our touring theater show. The last time we did a regular show was a comedy club back in the UK about 30 years ago, that was before the internet, so it is ancient history now.
Since being in America (10 years now!) we have talked about it, thought about it, had a couple of false starts, got distracted with a residency in Gatlinburg for 3 years, but finally, we are up and running with a once a month magic show in Troy, Michigan (about 20 miles north of Detroit). The name we chose is "Lady Sarah's Magic Soiree", and luckily www.TheMagicSoiree.com was still available. The room is a function room in a local restaurant, complete with the heads of many animals on the wall (it's a huntin', shootin', fishin' sort of place) and the first problem was that we sold all the tickets – 83 of them. Why was this a problem? well read on…

On arrival at the venue we started to set up and hit our first snag. It was 3pm and the doors were due to open at 6:30pm. We had hired a stage (2 pieces giving us 8-foot square), but as soon as we had put it in place we discovered we couldn't fit all the audience in! After a bit of panicking we dumped half the stage which left us with a tight 8′ x 4′. By 5:30pm we had lights, backdrop, seats, tables, table decorations, table numbers, themed cocktail menus and more, all in place. Yes, there were lots of frilly bits; we were putting on "Lady Sarah's Magic Soiree" not just a magic show – we wanted it to look special. And it did!
Our format was simple – a close-up session with strolling performers followed by a cabaret show. There are many ways of skinning this particular cat, what mix of magic should we use? This format was decided on as we thought it would be the best for the room, for the audience, the demographic of our area,and the best way to create a performing space where many local magicians would enjoy performing.
We soon learned that in Michigan, if you say "the doors open at 6.30pm", folk will arrive an hour early and wonder why they can't be seated! The downstairs restaurant was overcrowded with their normal diners AND our audience so we had to open the doors a bit early and had an instant full room at 6:15! This caused a little problem as the wait staff had to get around all the tables, get drinks out, take food orders, etc. Luckily our professional close-up performers filled the void!
We then hit another tiny tiny problem – everyone ordered food, I mean everyone! The kitchen was swamped, food service was a little slow, but the wonderful close-up performers saved the day, and eventually everyone was fed, watered, and amazed by the magic!
We ended up starting the cabaret about 15 minutes later than intended but the end result was a very satisfied audience, a group of performers who all wanted to do it again, and the owner of the bar where we were hosting this shebang was very happy and keen for us to do it again.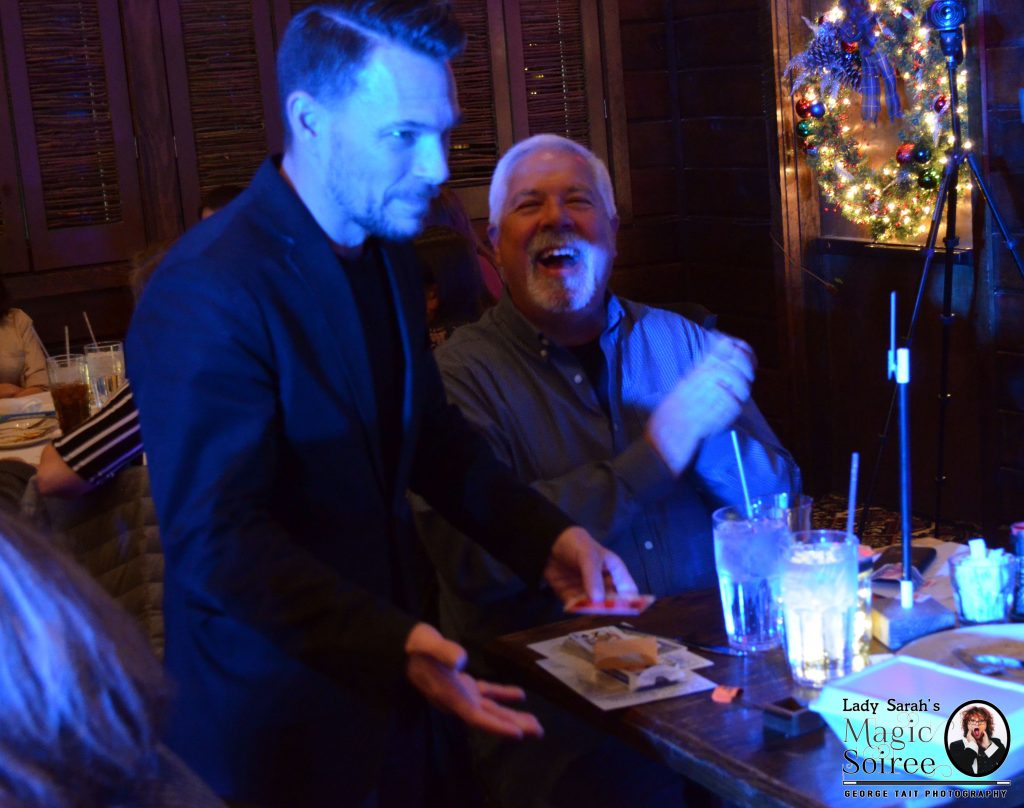 They say it takes a village to raise a child, well we had a village and more to put on this show – many thanks must go to the many people who helped. The close-up performers – Michael Mode, John Kohl, Andy Makar and Joe Chasney (who was also the opening act). Our creative neighbors who made the table decorations and only remain nameless because they want it that way. George Tait who saved the day with techie stuff, lights, and filmed enough of the event to make the sizzle reel that you can see on the website. Also our daughter Felicity who helped in so many ways especially organizing the close-up guys so every table got to see plenty of magic.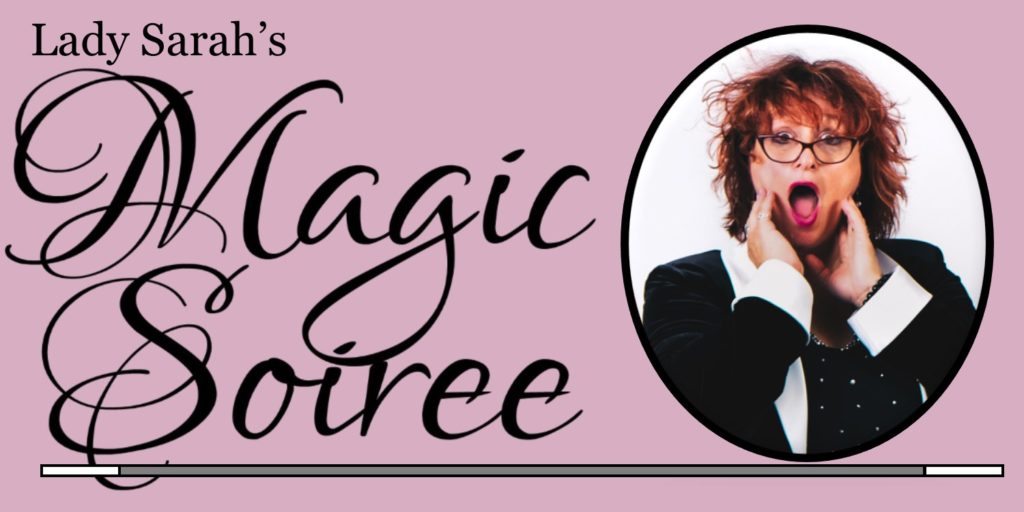 We learned much that night. Even after being in the business for over 30 years and talking to many others who have done a similar thing, we still had surprises along the way. For the second Soiree I built a stage which was 6′ x 9′ – the perfect size for the venue, moved the sound system, reduced the audience numbers to 75, and still had the same problem with the kitchen! However the venue still wants to work with us and we have extra staff lined up for next time.
Tickets are now on sale for our third event – watch this space for an update.
Cheers
Keith Fields