Regular readers will know of our ambition to visit and perform at as many magic venues around the world as we can, here is the next installment of this amazing journey…
Nashville is the home of country music but hidden away beneath the Johnny Cash Museum is a restaurant from a different world. It's a place where you will see country music stars, but they will be relaxing and having fun.
There are no signs, no advertising, no neon lights pointing to the entrance. The only way to get in is to wander up to the security man (who is wearing a small badge that says 'House of Cards'), and he will unlock a door, and let you in.
The stairs lead down to a basement, the stone walls feel like a castle dungeon. Then you suddenly enter an extravagantly decorated restaurant. Magic posters adorn the walls (all original!), there is a collection of ancient playing cards (dating back to 1490), the furniture is antique, and the bar is stocked with many fine and rare bottles. I would show you some photos but there is a strict rule about that!
The food is excellent and even though the House Of Cards has only been open a short while it is already listed as one of Americas 100 best restaurants
But what about the magic I hear you ask?
There are 2 close-up stations running continuously and the standard is high. I watched in utter amazement as a rotating group of magicians entertained a dazzled audience.
There is also a 65-seat theater (which is where Lady Sarah and I were working).  A charming venue with comfortable seating and great sight-lines for the audience. 4×30 minute shows a night makes it a grueling week for the performers (and there are an extra 3 shows for the brunch on Sunday). However, it was such a joy to perform for an audience who are there to see a magic show.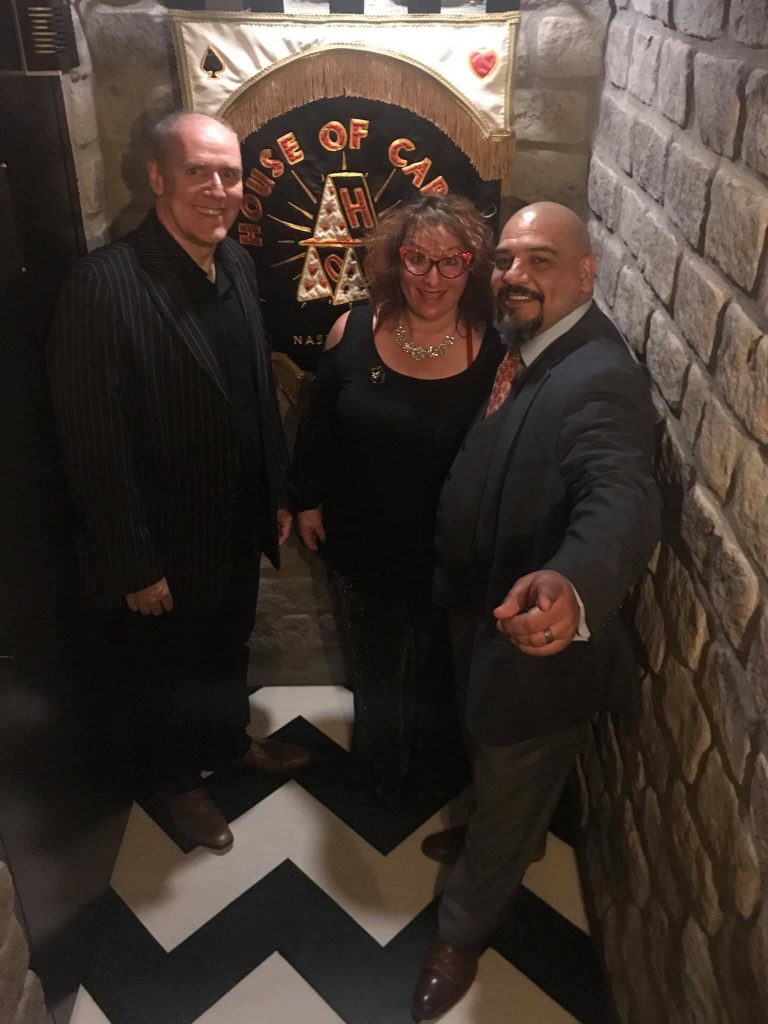 Nashville is a party town, so a couple of the shows were quite rowdy, but even then, the emphasis of the audience was to have fun, and have fun we did! AND we always knew that Joey (the Director of Operations and Entertainment who used to work The Magic Castle) was on hand and keeping an eye on things.Joey gets it. He knows what magicians need to do a great show and he works hard to make that happen
Did you meet any country stars I hear you ask?
I'm sure we must have done because everyone is a country star in Nashville. They are just driving the Uber till the record comes out! Then on the Thursday night an entourage walked in, and they wanted to meet us after the show. We had a wonderful time talking to a chap who was obviously getting the 'star' treatment. We chatted for about an hour… we had no idea who we were talking to!!! When I looked him up on google, I discovered that Randy Travis was a huge star who had sold over 25 million records. And won 7 Grammys! Yes, Lady Sarah and I need to brush up on our knowledge of country music. We thought he was a super nice guy, as were the rest of his party.
So, if you like great magic. Great food, great wine and a great atmosphere, do yourself a favor and go to the House Of Cards. You never know who is going to be sitting on the next table.
Cheers
Keith Fields