I remember well my first visit to the Chicago Magic Lounge. I was in the city performing at a trade show and had the evening off. It was a Thursday night and I eventually discovered the underground speakeasy where the Magic Lounge was taking place. My first impression was that it was a venue that would suit a burlesque show more than a magic show. Which was me being astute, as that is what happened on several other nights. A fun night was had by all with close-up magic, a bar magician, and a stage show.
That was a few years ago and the Chicago Magic Lounge has now morphed from one night a week in a rented underground bar to a purpose-built building running 7 nights a week. It didn't happen overnight and I'm sure there were many problems along the way, but now Chicago has a shiny new magic venue.
They run a variety of different evenings including Jazz and Magic, and one man shows, but the main event is the weekend which runs a brilliant evening of wonder.
Unless you know where the venue is you are unlikely to find it. The entrance is via a launderette, complete with working machines. If you know how, a secret door opens, and you walk into a salubrious bar with a bar magician.This is were we enjoyed the magic of 2 old friends from Abbotts Get Together, Jeff Bibik & Deven Brown. The bar is open to all but if you have a ticket you can gain access to the main show room. (Tip – When we were performing there you needed to book in advance as it was sold out).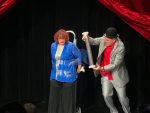 The main show room is spacious with a balcony and seats (I'm guessing) about 120 people. Close-up workers are working the room while you can enjoy a cocktail and a bite to eat. This is followed by a cabaret stage show of the best magicians in Chicago, and sometimes further afield.
And if that wasn't enough there is the after-show show in the close-up room. It is called the 654 club, a nod to native Chicago magician Bill Malone. This room presents a brilliant chance to see a longer close-up magic show, with raked seating and not a bad seat in the house.
It was such a treat to work with Chicago locals Jan Rose with husband Danny Orleans and the 'youngens' Trent James and Ryan Plunkett and all kept in order by Ben Barnes!
If you find yourself in Chicago with nothing to do don't miss this magical treat, but don't forget to buy a ticket in advance.
Cheers
Keith Fields
And dont tell them but here is the world famous John Sturk and Lady Sarah having a jolly time.