Me and my good Lady have been on the road again, performing at more of our favorite venues – magic theaters! Those special places where the audience are there to see a magic show. This led to us asking a number of questions. Why Castle Rock CO? Why Millville DE? Why Nashville TN? Why Chicago IL? Why Martinez CA? All these places have a magic venue. What makes them special?
We have discovered one of the secrets to running a successful show, and it is a new word! Watch the video below for a quick tour of The California Magic Club, a magic dinner theater in Martinez CA and we will talk about it after, it's only a couple of minutes. And regular viewers of my little videos will notice that I have attempted some video editing!
…so that is one of the most important qualities that you need to promote a regular show! (If you cheated and didn't watch the video maybe you should go and do it now so the rest of this post will make sense).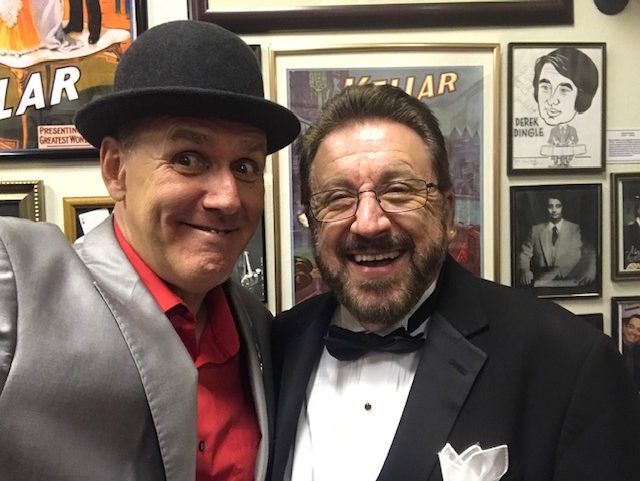 Wise words indeed from our friend Gerry Griffin, someone who has done it, and continues to do it, every Friday and Saturday night.
If you have ever thought of putting on a public show then we absolutely encourage you to do it. The first one won't be easy, but you will learn loads, you will learn that it is not as hard as you think. The most important thing you need to grasp is that it is all about getting an audience, that is the work; putting on the show is the fun bit. I will repeat this statement because it is so important – YOU NEED AN AUDIENCE. Selling tickets to your first show will be easy, you simply contact everyone you know, but you will very quickly run out of friends! For the second and third show it will take a bit more work. To keep it going every month you have to learn the real secret of selling tickets and the magic word is…. MARKETING. And there is a topic we can talk about another time.
How many people does it take to make an audience? Some of the magic theaters around the country have a very small audience, creating more of a close-up environment, others are more parlor style, one or two go full theater. The style of show and the size of your audience will be dictated by your venue. There will be more on finding a venue in my next newsletter.
By applying the technique outlined in the video above (see you are going to have to watch it now!) you will eventually overcome all your problems and achieve success. And if you get that far give us a call as we would love to come and perform at your venue.
Cheers
Keith Fields