Hello again! I seem to have gone mad with these news letters of late but I want to get up to date with my series of 'Magic shows around the USA'. So here is a brief review of a recent trip to New York and what to do on a Monday night. Well…

Monday night Magic is the longest running Magic show in New York. It has been through several venues, but it has persisted, and I am very glad that it has. They run a different show every week with an incredible roster of performances that reads like a who's who of New York Magicians with the addition of a few out of town visitors like Lady Sarah and me. The Players Theater (the current Venue) is old and a bit tired, but for me that adds to the magic, it makes me feel that I have been transported back into the world of vaudeville when magic was one of the biggest draws to the entertainment loving public.
The week we were there the emcee was Todd Robins. As well as being a very congenial host he is the best man ever to spend time with in the dressing room. I am sure Todd knows a story or two about every performer that has ever passed through New York and his tales of Coney Island and the con men of days gone by are part of the reason I love visiting Monday Night Magic.
During this show you will see 3 stage magicians and a couple of close-up guys working the audience during the intermission – a full night of magic that is not to be missed. This is not magic performed for magicians, this is magic that is amazing an audience who have come to be entertained by what many regard as the second oldest profession.
The producers of the show (Michael Chaut, Todd Robbins, Peter Samelson and Jamy Ian Swiss) have kept it running every Monday night since 1997 which is quite a feat of magic in itself!
For those of you who have visited and would like to keep this great establishment going…. how about an extra few mins of your time to put a positive 5* review on TripAdvisor.
For those who have never been – looking forward to your feed back when you next visit Monday Night Magic at the Players Theatre in New York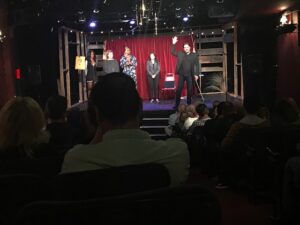 The main point of these emails is to share some important thoughts. So here are the two biggest lessons I have learned from promoting our own show and talking to other promoters…
You need to be a carthorse not a racehorse! It takes time and success doesn't usually happen overnight (without the help of AGT)
That it take a lot more work than you think it will, but the rewards far outweigh the work.
And we are at it again, looking for a local venue to put on some shows, as I believe I mentioned the rewards outweigh the hard work! But more about that when it happens.
Till next time