For virtually every entertainer the idea of having your own show with your own audience who are there just to see you is second only to winning the lottery.  For some it would be first, but those are the ones who forget that if they won the lottery they would have enough money to buy their own theater… and audience!
The great thing about dreams is that they are just that, dreams!  In mine, I am in a luxury theater in a five star resort and the full house is ready and waiting, this is not so much a dream, more of a fantasy!
A couple of months ago I threw caution to the wind and headed south to work on my dream. Those of you who follow me on facebook or twitter will already know this.  'Old News!' I hear you say, but that is not the point of this story.
I deserted the snowy north for the balmier climes of Gatlinburg, Tennessee (don't worry Michigan friends this is not a permanent move) to do my one man show.  We re-branded as 'A Brit of Magic' and I was to perform at a 100 seat theater at the base of the Space Needle, one of Gatlinburg's biggest attractions.

When I arrived at the Iris Theater I could not see a single poster or sign with my name on it and it looked a bit like they had forgotten that I was coming.  How was my dream looking now?  Well not so good.
I remembered 2 very valuable lessons:
Anything that is worth having is worth working for.
You will never be plucked from obscurity and thrown into stardom. 
I also learned that putting on a show is not a 'Field of Dreams' moment, just because you build it does not
mean that they will come (If you don't get the reference check out the film, it is a good 'un).  There was a lot of work to do so I rolled up my sleeves and got stuck in.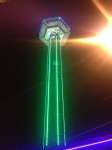 A couple of days later we had the posters up and an opening night with a few tickets sold and enough local guests to make the first show a mini success.  I was up and running, (OK, jogging) and the adventure was just beginning.  The initial run has been amazing, (see reviews on www.TripAdvisor.com) and
I am very excited to announce that I will be back for the summer.
The point of this story is that the adventure carries on and I have no idea how this story will end.  There is still a lot of work to do to build the show and get more people through the doors.
Success in this business does not go to the hare it goes to the tortoise.
If you want to find success you must keep practicing, keep creating, keep working and keep plodding along.  Run too fast and you may run out of steam.  Maybe the title of this piece is a bit misleading.  We should not be living our dreams but building them.  That is what I am doing.
If you are visiting the Smokey Mountains this summer, come and see the show and we can meet up afterwards to sample the moonshine.
Vanish Magazine
While I was living in my little cabin in the mountains, surrounded by beautiful countryside (and wild bears) I wrote a new series of articles for Vanish Magazine called 'Show Me the Funny', advice about developing comedy for your act.  The current issue is out now and it is free  www.vanishmagazine.com
If Ever a Wiz There Was volume 2 – Coming Soon
I had one other job to complete while I was away, the long awaited sequel to my best selling book for family and children's entertainers.  I was so busy promoting the show that I didn't get a chance to finish it. The good news is that I have finished the writing and will be taking pictures this week so the end is in sight.  If you haven't checked out volume 1 click here.
Keep an eye on your inbox as I will be offering YOU a special pre-publication price before the end of May.
See you in Gatlinburg!
Keith Fields