This year 'The Verge' visited Abbots Get Together.  I had heard of the latter as it has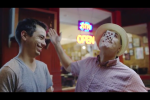 become a regular feature of our year since we have been in the USA, but I had no idea who or what 'The Verge' was, or what that would mean for the Get Together.
The who is the easy bit, just look at their web site.  They are a news/media website producing content at the intersection of technology, science, art, and culture.  They were going to do a 15 minute short form documentary about Colon.
The 'what it would mean' bit made me smile.  I have been to magic conventions where there are film crews before.  I am glad to report that Abbotts was no different.  There were the rumors (a reality TV show about magicians, another masked magician), the nay sayers (lets go to the other bar where the cameras aren't) and the ego's (lets go to the bar where the cameras are and start doing tricks!)
(tiny question from the Wife & Editor – And which one are you Keith?)
Then, standing outside 5 Star Pizza someone said, these film guys need some shots of people throwing cards.  The game was a foot!  For those who don't know there is an unofficial thing that happens every year.  We try and throw cards over the road (about 4 lanes) and hopefully over the buildings opposite.  Those who just try, their names are quickly forgotten, those that succeed, well they are forgotten just as quickly!  As I said, it is just a thing.  A group of us got up and started throwing for all we were worth.  Unfortunately, most of the group were at least over 40.  Our throwing arms were not as good as we would like to think they once were.
It was at that moment that my good friend Michael Mode said 'come over here, I want you to talk with these guys' and I was suddenly in front of the camera!  I gave them about 15 minutes of brilliant stuff, more than enough to do the whole documentary, They could just use me and then relax and enjoy the rest of the convention, but sadly I have been edited down to about 30 seconds – And that my friends is show business!
Seriously though, that is how it happened!  And the guys produced a wonderful short film – 15 mins so watch it on the link below :
Colon, magic capital of the world.