For the last 5 years we have had a pet hedgehog called Heidi, all that time an idea for a trick has been rattling around in my brain.  It has finally happened…
Hedgehogs and Balloons are mortal enemies.  The balloons are fearful of their lives and hedgehogs have very sensitive ears, when they hear a loud 'pop' they curl up into a ball!
4 cards are shown.  The backs are balloons and the faces are cute cartoon hedgehogs (can you say flustration count?)  Someone shouts 'POP!' and one of them rolls into a ball!  They take it in turns to curl up but eventually the brave little heroes all come back, and they are all smiling! Why?  Because the balloons have all burst!  You flip the cards over and show 4 different colored burst balloons!
SUITABLE FOR ALL SKILL LEVELS (WHICH MEANS IT IS VERY EASY TO DO,) & WITH AN ENDEARING STORY LINE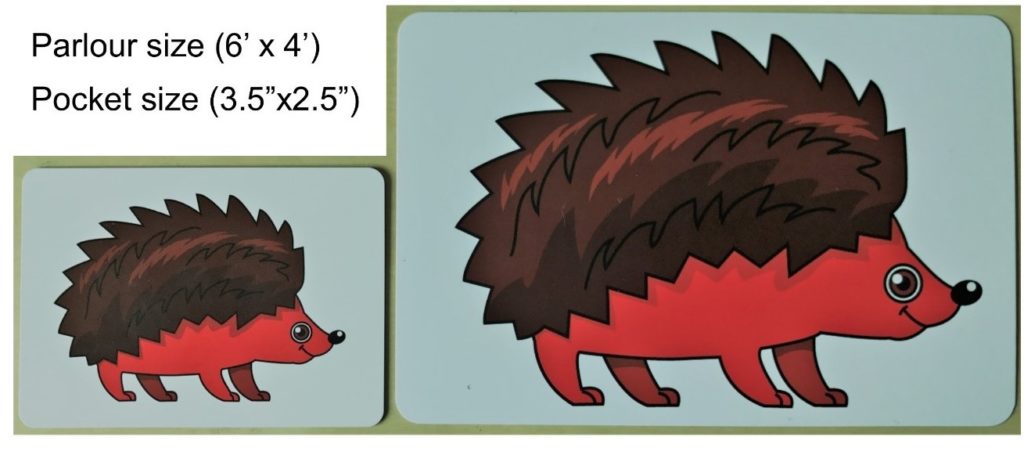 Available in 2 sizes – Pocket size (poker size) for close-up or Parlour size for kids shows.  The handling is almost identical for both sizes cards.
Video instructions and full performance.
$25 each plus s&h (USA $4, Anywhere else $8)
Parlour size – US Shipping
Pocket Size – US Shipping
Parlour size with international shipping
Pocket size with international shipping