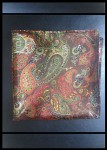 They are back at last and they won't last long!
The devils handkerchief is the perfect device for vanishing small objects (coins, keys, bills, etc)
Our hankies are hand made to my personal design here in the USA using material that is specially chosen to work well, look great, and last a lifetime.  Exactly the same as I use in my shows.  Approx 17 inches square and perfect to wear as a pocket hankie with a diner suit
Order today and I will also include my favorite routine using this versatile prop.  The 'bill in banana routine' was the backbone of my street show for many years and was instrumental in me winning the International Street Magician of the Year in London a few years ago, well it was actually in the last century but who's counting?  10 minutes of comedy fun with minimal props and gobsmacking magic!
$30 plus s&h ($3 in USA, $5 for the rest of the world) – the routine will be sent by email and the prop will be mailed