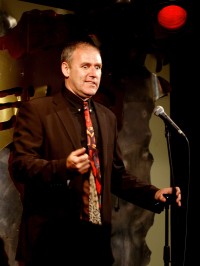 'A man who has found something to be passionate about is a happy man'. 
Magic to some is a hobby, to others a career, for Keith it is a passion. For over 30 years he has been performing, writing, inventing and sharing his passion with others.  He has written several books on magic and performance techniques.  He has a readership of thousands for his magazine articles, blogs and mail lists. He is a regular performer at magic conventions around the world and he still finds time to do several lecture tours every year.
Click here for a recent interview with Keith on the Magician's Business Network 
He started his performing career in London England as a children's entertainer and ended up writing and performing for one of the UK's top children's theater companies.  One of his shows, after touring for 12 months transferred to the Mermaid Theater in the west end of London.
As a street entertainer he was crowned World Champion Street Magician at the Covent Garden International Street Entertainers Festival.  But it gets cold in the winter (and the crowds are thin) so another outlet was needed.  Keith has always been a very funny performer so comedy clubs were an obvious next step.    He quickly became a headline act and found work all over the UK, most of Europe, China, Hong Kong, Singapore, the UAE, and many other exotic places.  He went on to be crowned Club Entertainer of the Year with a first prize of a series of gigs in the USA.  That was his first trip across The Pond.
He won the coveted title of Magic Circle Close-up Magician of the year and was made a Member of the Inner Magic Circle with Gold Star.
Keith's career has been a roller coaster ride of fun and excitement with a few scary bits.  For a while he became known as more of a comedian than a magician, but magic has always been his first love. In 2008 the US government called Keith 'an alien with extraordinary ability' because of his expertise and work as a performing magician.  Shortly after that and with many discussions with Sarah is wife, of many wonderful years, plus their teenagers Oliver and Felicity… they all moved to the USA to explore new performing challenges.
Being a Brit living in the USA has given Keith the chance to discover a new audience and new outlets for his comedy and magic.  Over the last few years he has been rediscovering the joy of fooling people as he makes them laugh. This journey has led to the creation his new one man show 'Keith Fields – Live and Tricking'.  An interactive, multimedia show that includes some great magic, some hilarious comedy and some amazing stunts that you won't want to believe!  But this is not just a show; this is Keith sharing the thing he loves – his passion for magic and for making people laugh.
'Looking back over the last 30 years I have to pinch myself to make sure that I am not dreaming.  To have managed to make a living doing something that I really enjoy is a rare gift and one that I truly treasure.  Now I get the chance to share what I do with other magicians, to talk about the subject I love and even teach the joys of performing the art of magic – I am one lucky man'
And of course his other passions, include his wife, his children, his granddaughter, a cat, a tortoise and a hedgehog.  Some of them live with him in Michigan; others are missed big time and live in his hometown of London.